Exciting New Developments
We've designed a new coat of arms to use in conjunction with our pin.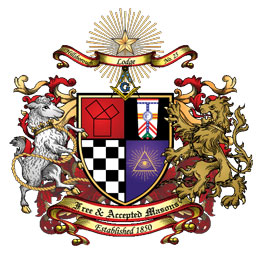 Our new coat of arms project was driven by two very dedicated Brothers in an effort to further distinguish Hillsbrough Lodge in Tampa. The design includes the lion, the lamb, the square and compasses, the 47th Problem of Euclid, the City of Tampa flag, the All-Seeing Eye, the Temple floor, the blazing star, and other Masonic symbols. As we continue to incorporate it into our Lodge, we're interested in any ideas that you may have for its use. View the full size version below and drop us a line!
Fullsize